Dr V, 33 Charts, is the host for this week's Grand Rounds.   It's the "Artsy Doctors, Genes and Creepy Imagery" edition.  You can read this week's edition here.
It's been a tough week for the anti-vaccine movement but an important week for pediatric health. Yesterday the UK's General Medical Council announced that Andrew Wakefield, who's fraudulent manipulation of data spawned the vaccine-autism cottage industry, would be 'struck' from the medical register. This action by the GMC is one more nail in the coffin of the man who has singlehandedly turned back the clock on two generations of pediatric public health. Check out Respectful Insolence for some pithy commentary and a pointed, must see interview with Matt Lauer. This issue finally seems to be circling the drain………

……………………………………….
Dr Lisa is in Haiti and has been blogging her experience. I hope you will check it out. You can begin with her first post from there, First Haiti Thoughts
Landing in Port Au Prince, my first glimpses of Haiti revealed a lush Caribbean island like so many others. The large central mountains, relics of the islands volcanic origin, the rocky coastline, the lush vegetation, then we landed and we were shuttled to the boarding terminal. Damage from the earthquake was still visible in the buildings at the airport. Then we left the airport grounds, and on our short drive, the disarray of the city was obvious. Although despite the extant destruction there were many signs of regrowth.
……………………………………
Check out this Daily Beast article by Ayaan Hirsi Ali:  Why Are American Doctors Mutilating Girls? 
The American Academy of Pediatrics recently put forward a proposal on female genital mutilation. They would like that American doctors be given permission to perform a ceremonial pinprick or "nick" on girls born into communities that practice female genital mutilation.

Female circumcision is a custom in many African and Asian countries whereby the genitals of a girl child are cut. There are roughly four procedures. First there is the ritual pinprick. This is what Pediatrics refers to as the "nick" option………..
…………………………………….
Tony Brayer  was interviewed by My Life Stages about her experience as a patient:  Enough is Enough -- When Knee Pain Hits the Tipping Point  (photo credit)
…………Not long after that, she scheduled her surgery for the 2009 Christmas holiday. Now recovering from a total replacement of her right knee, she recently talked about her experience as a doctor, patient and woman.

What was the moment at which you knew you needed to have knee replacement surgery?
I never considered that this was something I would be facing. I was in denial. I would try to hide it. I didn't want anyone to see me limping, and I was surprised when people noticed that something was wrong. I had a lot of pain that I just pushed through. But one day I was getting ready for work and out of the blue, I just burst into tears and said, 'I just can't do this anymore. I am really crippled.' That was my wake up call……….
……………………………………..
As we head into summer you may want to check out the Environmental Working Group's list of the best and worst sunscreens can be found on their  searchable database.  A few of the best rated include:  Al Terrain Aquasport Performance SPF 30, Badger Sunscreen for Body and Face SPF 30, California Baby Sunscreen SPF 30, and Vanicream Sunscreen Sport SPF 35.
……………………………………..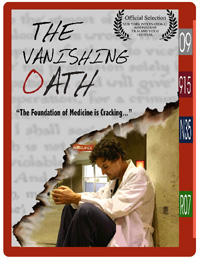 Dr Wes has done a review of a film I wish all of us could see: The Vanishing Oath: A Review.  He now has reported that the Chicago premiere was a success.
I would like to take a moment to thank the over 120 people who took time out from their busy schedules to attend the Chicago premiere of The Vanishing Oath at the Wilmette Theatre last evening. For many, it was the first time people they were exposed to the challenges that confront physicians daily in our current health care system…..
………………………………………….
Medical Industry News linked to this article by Diane Suchetka:  Burn victim hopes her story calls attention to dangers of surgical fires.  The article includes before and after burn photos.
There are two Lauren Wargos.

One is so beautiful, you can't stop looking at her. The other was so disfigured, you had to look away.

One wants to remember. The other to forget.

One would rather not talk about what happened. The other wants the whole world to know.

Months after the surgery, Lauren Wargo's one eye would still not close all the way, she had trouble reading and her face was scarred.

It's that last Lauren Wargo who's stepping up now, four years after her face was burned during surgery to have a mole removed from her eyebrow. She's doing it, she says, because she wants to make sure what happened to her doesn't happen to anyone else. ……
……………………………….
Medgadget is sponsoring the The 2010 My Medical Museum Competition along with Dr. Allen Roberts, aka GruntDoc.
This contest is an opportunity to showcase your medical museum's treasures, as well as to document your local medical history and explain how clinicians and scientists in your area contributed to medicine. So, make a presentation and tell everyone a fascinating story.

To get everyone on equal footing, we've implemented a dynamic publishing platform where you create an online presentation. The My Medical Museum website will let you upload pictures, file reports, embed videos, and make a presentation that will impress the judges. Collaboration is fine, too -- form a group and grant access so your teammates can contribute.

The Grand Prize is a brand-new Wi-Fi 32GB Apple iPad, no less.

So, what else are you waiting for? Gather your friends, family or fellow medical geeks and head over to explore your local medical museum. Develop your presentation and finalize it by Sunday, June 13, 2010.
……………………………………….
It's time again for the web-based quilt festival hosted by Amy – Blogger's Quilt Festival, Spring 2010.  I submitted my "First Quilt" as part of the festival.  There is a long list of blogging quilters who are participating.  Grab a cup of coffee or tea and have fun checking them all out.
Welcome to the third Blogger's Quilt Festival!  I'm so glad that you are here - and I hope that you plan to enter a quilt in the Festival!  Everyone is welcome to participate, this is a relaxed festival with no judging, no gloves, and beverages are allowed, encouraged even!  :)
…………………………………..
Dr Anonymous' BTR show guest this week will be Dr. Jay Lee, Family Physician & Health Policy Expert. The show begins at 9 pm ET.
Upcoming shows (9pm ET)
6/3: Dr. Deb Clements, Family Physician who recently was in Haiti
6/10: Ray Saputelli, NJ Academy of Family Physician
You may want to listen to the shows in his Archives. Here are some to get you started:
GruntDoc, Sid Schwab, Dr. Val, Kevin MD, Rural Doctoring, Emergiblog, Crzegrl, Dr. Wes, TBTAM, Gwenn O'Keeffe, Bongi, Paul Levy, John Halamka, and ScanMan