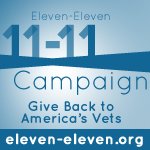 H/T to Dr Wes for alerting me to the 11-11 Campaign.  Our veterans have given much to us over the years and continue to do so.  (photo credit)
This campaign seeks to encourage 11 million of us to give $11.  The monies given will be distributed by Beyond Tribute Coalition to 11 charities that specialize in direct services and/or advocacy for Veterans of all eras and conflicts.
The 11 charities in the coalition include:
My heartfelt thanks to all veterans and their families
on this Veterans Day.